Pictures from other social events
29th April 2018 End of Season Lunch
The Bluebrick regulars were delighted for the company of Sue and Terry Wharton
(Pix fom Sue)
6th October 2017 Derek Parkin Tribute Dinner
Steve Plant's marvellous fundraising continues, this time in support again of Birmingham Children's Hospital, following the very successful Cure Leukaemia events for Carl Ikeme. On Friday he organised the Derek Parkin tribute, in recognition of Wolves' record holder. More pictures, courtesy of Sue Wharton and Steve Carvell, are on Facebook and on the website. Meanwhile, if you'd like to see Foz and Graham's tribute video together with a contribution from the inimitable Steve Daley go here https://youtu.be/naKPfSwevuc?t=14
28th June 2017 Wolves Former Players Assoc Dinner and Hall of Fame
For Hall of Fame entries please visit the Wolves Website link here
This was the induction of Big Frank Munro, Andy Thommo Thompson Joint founder Jack Brodie, record-breaking goalscorer Dennis Westcott, during a ceremony at Molineux.
Pervious inductees were
Players: Bert Williams, Malcolm Finlayson, Derek Parkin, Bill Slater, Billy Wright, John McAlle, Jackery Jones, Ron Flowers, Mike Bailey, Kenny Hibbitt, Dave Wagstaffe, Jimmy Mullen, Johnny Hancocks, Billy Harrison, Roy Swinbourne, Peter Broadbent, Derek Dougan, John Richards, Andy Mutch, Steve Bull.
Managers/owners: Stan Cullis, Graham Turner, Major Frank Buckley, Sir Jack Hayward.
Teams: Victory over Honved, the 2003 play-off final team.
Carol's and other pictures here
Read more in Tim Spiers' report of the evening at https://www.expressandstar.com/sport/football/wolverhampton-wanderers-fc/2017/06/29/report-wolves-welcome-new-hall-of-fame-inductees/#Hlb164Jc8eEPDmZh.99
6th May 2017 before the end of season win versus Preston - at The Fox at Shipley
KIT SPONSORS' LUNCH April 2017
Dave and Peter sponsor "Dangerous" Dave Edwards in celebration of London Wolves' 50th Anniversary.
With Half Time sponsorship presentation to Wolves Women's Tim Dudding and full backs Jen Anslow and Claire Hakeman
Read Peter Abbott's match preview here
In the tunnel ready for the Half Time present the cheque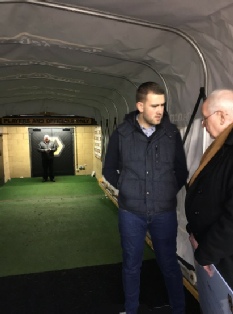 Left back Jen Anslow & Manager Tim Dudding Mark with right back Claire Hakeman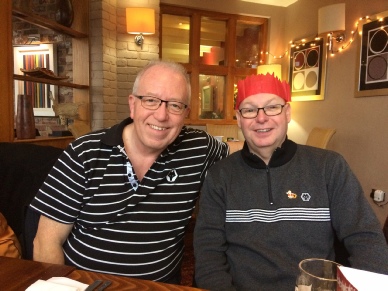 Abbswolf and a nutter - Cheer up Roy
Serious stuff from John & Steve. Dodges, Neil & Sheila
As some are staying over in Wolverhampton to celebrate this significant anniversary, Roy is booking tables for dinner at Molineux in Sir Jack's at 7:30pm. This is a normal dinner menu in SJHs with individual payment at the time. The Menu is here http://webclient.restaurant-live.co.uk/sirjacks/home Please let Peter Woodifield know if you wish to come by 15th October or earlier if possible (Roy is away for two weeks on holiday) and also if you need Sunday travel. We're, of course, hoping also to be joined by local members and, perhaps, a special guest or two! You could also visit the Wolves Ladies v Sporting Khalsa match at Hednesford on Sunday (2pm ko)
22nd October 2016 - prematch in WV1
To celebrate our travelling membership, Wolves are inviting WWLSC members for a special lunch in the North Bank (WV1 restaurant) for the Leeds match. The numbers are restricted to 30 members because of other hospitality commitments so, if you would like to go, please put your name forward to Dave together with £30 each, which will be the cost of the meal to those members, thanks to WWFC's amazing generosity. Our special thanks to Matt Grayson, Wolves Head of Marketing, who has been strongly supportive of us over the years for arranging this with Roy. The £30 should be paid on booking immediately to Dave Slape and, in any case, no later than October 7th. We hope to be joined by representatives of that winning team from 1966, and look forward to a win against Leeds.
Further details: There is a strict "no colours" and dress code in WV1 as a waitress service restaurant - A smart dress code applies on a match day. Smart shoes must be worn, trainers are not permitted. Any persons wearing sportswear, clothing displaying any offensive branding or football colours will be denied entrance. Smart denim is acceptable. Smart is defined as not faded or torn. There will be a pay bar. The train is due in at 11:37 - meet in the Sunbeam pub near the station or in the North Bank Bar at 12:50. Bookings are only accepted when payment made, and on a "first-come-first-paid" basis. Roy has the tickets, and you will need one to get in, but payment should be to Dave (cheques to WWLSC). Wolves expect a prompt arrival at 1pm
Bravaccio's 2nd May 2015
Oxford (PSF) July 2014 scroll over th e pictures for Carol's narrative.