We offer discounted travel and match tickets from London to home and away Wolves matches + social events. Membership info & form click here
Travel booked to March 2016 travel page
Latest committee meeting Friday 17th March 8pm The Paternoster EC4M 7DZ- minutes
50

th

Anniversary pictures
50 Golden Years of Supporting the Wolves - Tim Spiers article in the Express & Star while Tim also took this pic of the fan's parade more

And more from Rob Goddard

Who thought Sundae was match day - dinner at The Fox at Shipley -
here

Peter and Dave met 300 up Eddo and the players at the Kit Sponsors' Lunch 18-4-17

Roy's Seagull Lunch 14April17
Picture Phil from Berlin
2017 Meet the Players


Wolves announced that Vice President Rachael died 18th January. A wonderful lady, dedicated to Wolves, Cricket and charity work always made all the fans feel special at Molineux - including these two. London Wolves pass their thoughts and prayers to Derrick and her family.
The Earl of Cressingham with the Baroness of Wolverhampton and Rachael with Mark Telegraph obituary Sports Obituary
Graham Taylor Wolves Mgr 1994-95 RIP
Read Tim Spiers blog on a gung-ho season and founding the youth programme. Tributes from many former players including Froggy & Tony Daley Msc. There will be a
tribute before the Villa match More here
We were very sorry to hear that our former Minutes Secretary and long time member Leo Mastbraker passed away Sunday 27th November 2016. Our thoughts are with his family. Leo's son Garry's school class designed the London Wolves 45th anniverary badge
Ian "Iggy" Cartwright
Iggy Wolves tribute here
we were sad to hear from Mel Eves of the death of Ian "Iggy" Cartwright, former Wolves footballer, whose son also made the Wolves academy. Roy had invited Iggy to our Christmas lunch two years ago, but, unfortunately he was too ill for he and Julie to join us. Nearly 10 years ago the Doog ran a fundraising dinner for him pictures
Iggy's funeral Thur 22nd December 2016
London Wolves 50th - 22nd October 2016 pre Leeds and post Leeds pix
Congratulations to Jade Cross Wolves Women FAWPL Golden Boot winner
Graham's funeral on Wed 19th October
Very sad news of the death of Graham Hawkins 28-9-16 - a Wol
ves fan, player (he was the sub in our first "official" match v Plymouth 22/10/1966) gaining promotion that year. The Doog appointed him manager and he gained promotion to the top flight in 1983. Graham was diagnosed with non-Hodgkin Lymphoma in 2009 and fought the disease tirelessly whilst raising money for fellow cancer patients at Shrewsbury's
Royal Hospital, including joining one of Roy's Xmas parties (2012) where our fundraising went towards Graham's charities. It was touch and go whether he would make it, but the last time we saw Graham was at our 50th Anniversary dinner on 16th July. Such a nice man, with time for everyone and our thoughts are with Jane and his family.
WWLSC PLAYER OF THE SEASON 2015-16 - Presentation 23Aug at Molineux to The Doc picture by Peter Abbott who grabbed a selfie with manager Walter Zenga
Congratulations to Anna Price (Perks), Wolves Women FC first team coach and player for her wedding 20Aug
U23s at West Ham 2-2 - Pic Mark F
LONDON WOLVES 50th ANNIVERSARY Pictures - THANKS TO PHOTOGRAPHER ROB CLAYTON
Castronomic Tours ride again - London Wolves Walk 25th June 2016 Castronomic's Clerkenwell pictures here
Mark F laid his claim to the Championship Trophy at the English Football League Press kick off The Cottage 2-8-16
Mark Feehan hangs up his boots - 60 Football Aid matches + the baton is passed on
MEET THE PLAYERS Reading match Friday 5th Feb pictures -click here
London Wolves meet for club celebration of our 50th Anniversary at Molineux Pictures here
To
celebrate our 50th Anniversary year, Travel Secretary Peter Woodifield and Secretary Dave Slape are sponsoring "Dangerous" Dave Edwards - here scoring the equaliser v Charlton Video Congratulations on Welsh Euro qualification
Bob Kent met a Wolves fan from Shrews - a mile out to sea on Busselton Jetty, Western Australia
Cheeses at the Valley
Mike Bailey's story The Valley Wanderer details Mike joined us for the pre-Xmas lunch - here with "centre half" Mark Feehan
And with with Peter Abbott
DDCWWFCSC 40th Aniversary - pix frm Peter Abbott
Meanwhile Fireman John and his mate from Carlisle stumbled over this chap in Lithuania
Wolves featured London Wolves in the Match Day programme v QPR (19Aug2015) - here
Congratulations to Matt Elaine and Tommy Baugh
Dean's Big Punch Up
Dean took part in a charity White Collar Boxing Event in 3 x 2 minute bout raising money for Marie Curie Cancer Care in memory of his mother. Please go to www.justgiving.com/dean-perkins3 Dean is shown here with son James presenting Wayne with his player of the season trophy
Now available from Roy - the WWLSC 1966 keyring torch - light your way home from late night matches - only £2.50 - buy one when you order your burger.
2015 AGM Friday 31st July Minutes are here
The Walk 2015
Click for more details/map on the Haunting Walk Sat 27June - Geoff said "I can guarantee a good walk, a few decent ales and a visit to some of London's most haunted pubs where you are more likely to meet up with the ghost of a doctor's wife murdered by her husband and bricked up in the basement of the "William lV", the phantom waitress at "The Holly Bush Inn", or the ghost of Dick Turpin at "The Spaniards Inn"!" Pictures are here
April May 2015 Social events - pictures from Carol
Dinner at Bravaccios - last day of the season 2

nd

May 2015 here
Wolves Former Players' Association Dinner Molineux April 2015 here
New
book - the away trips you (yes, even Peter Abbott) might not have made.
Dave Instone's latest coffee table tome is published this month (9/15)
Details here
New novel - The Armageddon Pact by Bobby Smith
Details here
Mike Bailey's story The Valley Wanderer details
Our condolences to the family of Wolves right back Joe Wilson, who has died at the age of 78 in Australia. Joe was one of the team in London Wolves first official match v Plymouth in 1966.
Joe's obituary, an interview, and this picture is on the excellent Wolves Heroes site here
Our condolences go to June and all of Jim Pym's family. Jim passed away on 31st May 2015.
Our sympathies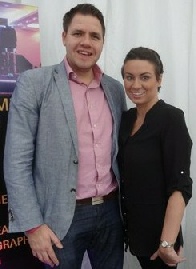 and prayers too are with Jason Guy whose wife Lucy passed away 15th June. Jason and Lucy have engaged in inspirational fundraising for Breakthrough Breast Cancer since her diagnosis. Together they have raised nearly £50,000 and as part of that were our special guests last Christmas
Wolves Former Players' Association Dinner Thurs 16th April Molineux
Video not available
Happy Birthday to Peter & Paul who celebrated at Banks's thanks to Simon Yates, Asst Head Brewer, before the 3-0 defeat of Fulham pix
Sir Jack Hayward dies aged 91.
Funeral Tue Feb 3rd St Peter's Collegiate Church video
E&S pictures WM Franksy Mid2day
Our thoughts and prayers are with his long term companion Patti Bloom, Lady Jean and Rick, Jonathan and Susan . In the Premier League year of 2004 SJH congratulated Robin on his marriage to Lin at the Molineux the day before the 2-1 win over Everton
Sir Jack tributes Wolves Express&Star
Telegraph Independent 1993 D.Mail
Our best wishes go to Bob Richards for a speedy and full recovery in Orpington Croydon Hospital - here with Trevor Lynne and Dave at the 2012 Xmas lunch
WWLSC July 2014 Newsletter is now here
WWLSC Next events: Marston's Brewery Contact Roy to book for social events. Email
Roy's famous annual Xmas lunch
Click here for PRIZEWINNER pictures AND CLICK HERE for more pix
Out December 6th and a raffle prize - a fan's tribute to the Sherpa Van Trophy win details here
Old Gold Glory - a new fanzine details here Issue 2 - Champions is out now (22/11)
New book: competition here WINNER BOB RICHARDS - a copy of "Dirty Northern B*st*rds and Other Tales from the Terraces" book details and ordering
New Book: Wolves fan seeking memories of the Sherpa Van Final contact Tim Gibbons at sherpawolves@outlook.com
Head
of the River crawl (pre Oxford) here
London Wolves Walk Saturday July 5th - what the Dickens did Geoff get up to? Pictures are here
Roy and WWLSC fundraising with the famous London Wolves pens - 1 guest pair paid for
Thursday 21st August John Hartson charity dinner at the Mount Hotel -
Frank's for the Memory by Waggy - order now details here
Recent events
Latest event: Pre-Carlisle lunch at the BlueBrick at 12 noon. then .. End of season dinner in Sir Jack's at Molineux after Carlisle match + Northern Blues & Motown music at Bradmore Social club. ... plus -Monday 5th for Jody Craddock's testimonial at Molineux
Madame Treasurer & Val in the Bluebrick
Retired water man steals the trophy as Wolves seal record breaking season with 103 points and 3-0 v Cumbrians - more @abbswolf here
WWLSC 50th Anniversary Dinner 2016
Roy has already raised enough to support the first players' table thanks to everyone who now possesses the gold London Wolves pen - so you have all contributed to this first table. Thanks and here's secretary Dave taking the £££
WWLSC support WW Women FC travel
MKDons HT: Mark F & Peter W presented our cheque to Wolves Women captain Anna Perks and star player Leanne Rimmer ably assisted by Wolves midfielder Lee Evans
In memory of member Stuart Hatwell who died on February 3rd. He is pictured here with his brother Keith and Wolves midfielder Seyi George Olofinjana at the Meet the Players in 2005 before the 2-1 win over Reading (Leon scored!). Stuart and Keith have been WWFC fans since the 1950s
It's Dave's 50th anniversary of tr
avelling up to Molineux -the lads on the train presented him with a cake
pic Mark F
PLEASE READ IMPORTANT MESSAGE ABOUT EUSTON on the travel page here
A message from the Chairman:Members are reminded that while they are travelling, at the match, on the way, especially on the train, or even in the pub home or away they are seen to be representing both Wolves and London Wolves at all times, and are expected to behave appropriately. Complaints have been made about bad language on the train in front of other passengers. London Wolves support the Club's campaign to cut out bad language in the family areas and expect that to be respected and will take action under rule 5 if it is not.
Members should also conform to the Dry Train rules - see the travel page for details.
Marriages:
Rachel & Olly more
here
Welcome to the London Wolves website
Peter W's travel details travel page
Diary: Friday 21st July London Wolves AGM The Shipwright's Arms 19:30 Agenda and 2016 minutes from Matt are here
Wed 28th June WWFC Formers Players' Assn Dinner £53-£60 book with Peter W
Saturday 24th June London Wolves Walk
in the Greenwich area - details here
Mar 17 2017 Meet the Players pix
Sunday May 14th Wolves Women promoted as Champions. Emma Cross scored the promotion goal. Video from @FunkySi and dinner photo
Champions ~ Capt Anna Price injured
Steve Hermon's pic congratulating "veteran" sister Claire
At the same time Wolves Allstars were supporting fantastic causes winning 4:3 versus Hawkins Sports (@Bham_Childrens @swab4margot ...great turnout in the sunshine played in the right spirit!
Monday April 24th last U23 PL2 b4 play offs Fulham 1 WW 4 highlite video
U23 beaten in playoff semi by West Ham's dodgy penalty
Voting for Player of the Season is now closed
Peter W's travel details travel page
Saturday 6 May - dinner at The Fox at Shipley - here
Abbswolf's & Fans' take on 3-1 v Cardiff and other matches
Can Wolves realistically challenge for a playoff position next season?
Mark Feehan choses Chelski for FAC5 - time to get our own back for Lampard incidents
Wolves Women's Manager and star full backs were our special Xmas lunch guests before Roy and Dave presented Claire Jen and Tim with our sponsorship pix
And a Wolves Community Trust article
Dave Hodges & Roy ready with cheque (wimping out from the rain in the tunnel)
22nd October 2016 - 50 years on
A lunch reception in WV1 at Molineux before a classy Italian with Mel
2015-16 Player of the Year is The Doc - Matt Doherty - here being presented with his award before the EFL Cup Tie v Cambridge. Pic Paul Richards
Welcome back to our 2015 Winner of the London Wolves (and 6 other) award - Richard Stearman. Unfortunately @The_Stears moved to Fulham but is now back. Roll of Honour here
Read Peter Abbott's pre Fulham (Dec10) article here on the FFC site
Listen to Stuart Earl on 101.8 WCRfm 6/8 select Hour 2; skip intro then 38 mins in
And read Abbswolf's Rotherham post match comments with Tim Spiers in the Star's Fans Verdict and PeterW on Crawley Town here PA on Reading win here and on TractorBoys Cambridge Terriers Brewers Tykes Magpies
Castronomic's Clerkenwell pictures here
End of season Dogs here
Congratulations to "Dangerous" Dave Edwards and the Wales European Championships team
Wolverhampton Wanderers FC invited London Wolves members to a special 50th reception before the Rotherham match. Pictures click here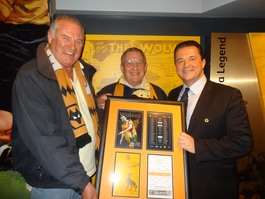 Betsy blows her top after 471,791 miles picture
London Wolves friend Cynthia - Wednesday here
Steve Carvell celebrated 50 years at the Golden Palace v PNE Pix HERE SteveC50
The Walk 2016
(click on picture)
We're delighted to renew our sponsorship for Wolves Women FC. For 2015-16 & 2016-17 we support the first team player/coach Anna Perks, as well as supporting other age groups HT Presentation v MKDons with Mark, Anna, Steve Cullis Claire and Roy
WWWFC fixtures here
WWLSC Player of the Season - voting Late entry - @20markf at Footy Aid at Molineux
London Wolves sponsor Wolves Women away travel
Congratulations to the Ladies U11s, U13s the U15s & the U18s, champions & cup winners - presentation evening Molineux 22nd May 2015
Wolves Women Winners
Under 11's Awards: Supporters Brogan, Players Player Hetty and Player of the Season goes to Libby
Under 13's Supporters Player of the Season goes to Katie. Players player is Jess and Maddy is the Player of the Year.
Under 15's Award Winners: Supporters Player Grace, Players Player Tammi and Player of the Season Phoebe.
Under 18's Awards: Supporters Anna, Players Player Esme and Player of the Season goes to Sophie
Seniors Awards: Reserves Player of the Year Hattie James, 1st Team Player of the year Jen Anslow, Players Player goes to Dom Luke.
Fundraising for Watford fan
Nick Cruwys here He is now walking
E&S article & reward update Aug2015
London Wolves Treasurer Carol presenting Jason Guy with the Xmas donation to Breakthrough Breast Cancer, thinking of Lucy
London Wolves Meet the Players Our thanks to Kenny and the Wolves players. Pictures here
Mitch presents to Bakary Sako and Joe to Kevin McDonald
Pictures here
Val donates £1,000 to the Stroke Assocn for Frank
Many pictures and match reports from 2003 to 2013 have been moved to the archive site click here
The events/newsflash/travel section above can be advanced / held using the scroll / pause buttons top left.
Comments are always welcome
Webmaster@LondonWolves,com
Peter Woodifield TRAVEL Ther
e are more details and contact information on Peter's Travel page
—-WWLSC / WWFC NEWS––-
OldGoldGlory.co.uk issue 3 of Graham's fanzine is out for Millers match
Out of Darkness includes Grahams Hawkins & Turner, Bully Mutchy and regulars Mel Eves Martin Patching and Geoff Palmer
U21 go down to Derby but Mark and John catch up with Paul Simpson now coach at Derby County
Lee Evans picked along with Sam Ricketts in Wales squad but injured
Alfie - Pam Tetlow's grandson was the mascot at Craven Cottage (pic from Rob Goddard) for the 1-0 away win (Sako)
Wolves Allstars Fixtures
Sunday 27th September 2.00pm 2015 Kick-Off at Stourbridge FC, High St, Amblecote, Stourbridge DY8 4HN against Russells Hall Hospital Emergency Services - and are playing to support the Children's and Adult Emergency Department at Russells Hall Hospital. This is a DGNHS Charity Football Match and Family Fun Day. The aim is to offer patients the best experience possible during a really traumatic time. The match Flyer is here :- http://t.co/DV2kOlNwGQ
WWLSC events - see right hand column
League 1 Champions 2013-1
4 and promotion
celebration at Gresty Road - pitch invasion
.
Dominic Iorfa and Kortney Hause in England U21 Toulon trophy winning side pic @comptonstars